A Just Resolution in Iraq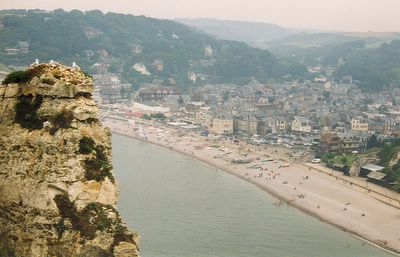 Etretat, France
(photos by terrette unless otherwise noted)
While many debates in TV LAND U.S.A. about U.S. policy in the current occupation and assault on Iraq are most often reduced by the duopolistic political machine and the media power that shapes and sustains it to questions of "procedure" and "efficiency," it is worth underscoring what a just policy would look like if the concerns were not only "how to do things easily" or "how to win."
Imagine
: to win at perpetrating a crime. That gives you a measure of the discussion's merit as broadcast daily across the United States. And it is worth underscoring that the spectacle of TV LAND U.S.A is in this case, as in many others, at odds with real public opinion in the United States.
Consider what historian Paul Street has written about the just resolution facing U.S. leadership and weigh, if you will, the magnificence distance between what Street proposes and what is both being said and done with respect to the occupation in Iraq today by leadership from the two major parties within the highly crafted but loud and persistent voice-and-image-factories of TV LAND U.S.A.
Here is what a civilized United States – a U.S. that actually cared about democracy, human rights, international law, and the people of the Middle East and the world – would "do about Iraq." It would stop talking about the occupation of Iraq as a "mistake" and start speaking accurately and honestly about O.I.F ("Operation Iraqi Freedom") as a CRIME: a great international transgression for which the U.S. must make reparations and be held legally and morally accountable. It would end its military invasion and occupation and work with international agencies and other states (within and beyond the region) to guarantee Iraqi security with an international peacekeeping force. It would dismantle all permanent U.S. military installations in Iraq. It would abolish all laws/rules opening the Iraqi economy to foreign and predominantly U.S multinational corporate exploitation. It would renounce all U.S. designs on Iraqi petroleum reserves. It would convert a massive portion of the sum it currently spends on militarily attacking Iraq to the provision of basic health, social, and infrastructural services and reconstruction in Iraq. It would work with Iraqis and international agencies to assist and enable the holding of genuinely free and fair Iraqi elections devoid of U.S. pressure.

It would pay massive reparations for the staggering damage it has inflicted on Iraq over many years and indeed decades, not just during the current open military assault. In determining the nature and scope of these reparations, it would inquire into and then responsibly tend to the needs of the victims. It would work with international authorities to investigate, prosecute, try, and sentence the top guilty parties behind the invasion in accord with the well-known Nuremberg principles, the UN Charter, and numerous national and other international legal and policy instruments.

Those in my opinion are reasonable alternatives. You start by ceasing and desisting from illegal aggression. You begin by calling off the assault. You move to meeting others needs and accepting responsibility. You offer your criminal "leadership" up for accountability. You acknowledge, apologize, and pay for what you have done – the hundreds of thousands you have killed and maimed, the water systems and food supplies and roads you have destroyed and polluted, the resources and opportunities you have stolen, the exodus you have forced, etc. You contribute to healing as best you can. You ask for help from international others and empower those others in proper accord.

Doing the right... thing along these lines is in obvious concurrence with elementary principles of civilized internationalism. It is also very much in lines (sic) with reputable surveys of U.S. public opinion on foreign policy. Under current U.S. political, institutional and ideological conditions, however, it is nearly impossible to have a reasonable and relevant public conversation about these basic alternatives. (Quotation from "The Empire and Inequality Report," Issue no. 8, January 26, 2007)

This is the right note to close on, for sure. In my own phraseology, it is nearly impossible to find in TV LAND U.S.A a reasonable discussion of a just resolution of U.S. violence in Iraq.
Labels: corporate militarism, TV LAND USA